Poet, Journalist, and Teacher Rubén Martínez is Awarded the 2022 Luis Leal Award for Distinction in Chicano/Latino Literature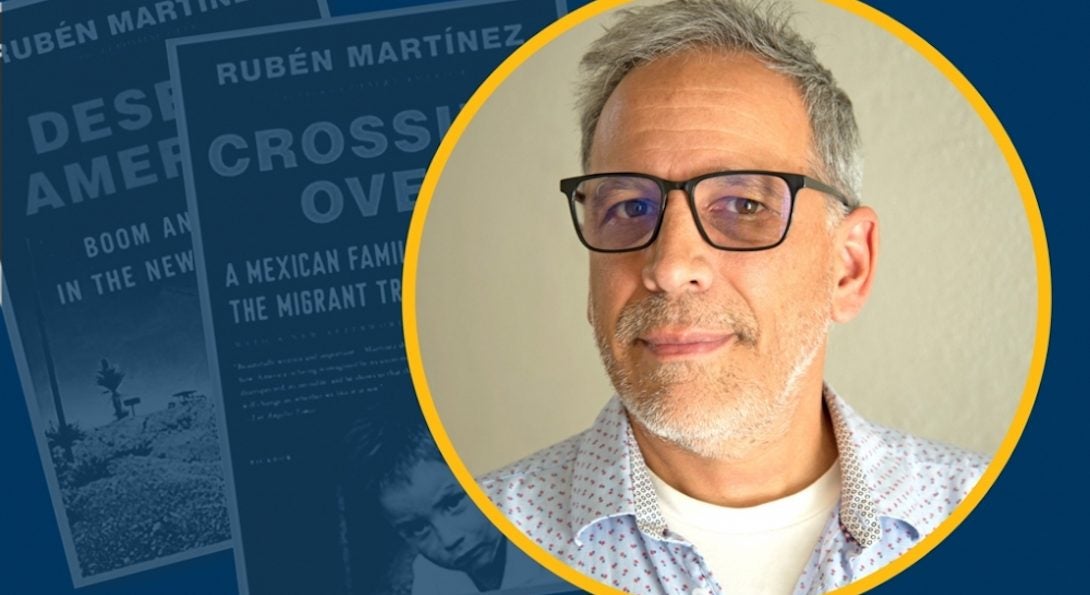 Congratulations Professor Rubén Martínez!
A writer, a musician, and a performer, Rubén Martínez has published books, written journalistic articles, collaborated in music and performing arts projects, and had his works published in anthologies and collections.
Among his publications, he has written the following texts:
The Wandering Song: Central American Writing in the United States, (Co-Editor), (Tía Chucha/Northwestern University Press), 2017
Desert America: Boom and Bust in the New Old West, (Metropolitan/Holt), 2013
Flesh Life: Sex in Mexico, (Powerhouse), 2006
The New Americans: Seven Families Journey to ANother Country, (The New Press), 2004
He is an Emmy-award winning journalist with a career spanning two decades, and has contributed to major networks in print, digital, and broadcasting format. He has contributed articles to the Los Angeles Times, is a contributing essayist to KCET-TV's "Artbound" and "Departures" features, as well as a contributing essayist to NPR with numerous appearances on Morning Edition, All Things Considered, and Latino USA. Rubén Martínez's documentary feature, When Worlds Collide, is a 90-minute feature that he co-wrote and hosted, was produced by KCET for national PBS broadcast and is about the first century after "contact" between New and Old Worlds. Martinez was awarded an Emmy for hosting KCET-TV's politics and culture series, "Life & Times," which aired from 1992 to 1999.
As a musician, he has collaborated with Grammy-winning musicians like Quetzal and La Marisoul of La Santa Cecilia, Los Illegals, Concrete Blonde and the Roches. He is the host of the VARIEDADES "performance salon" at the Echo club in Los Angeles, "variety" shows that focus on topical themes. "The Ballad of Ricardo Flores Magón," a full-length multimedia work he wrote about the most famous Mexican anarchist most Americans have never heard of, featured L.A.'s Latino musical luminaries, including Ceci Bastadi, Quetzal, Los Illegals, La Marisoul of La Santa Cecilia, the Entre Mujeres supergroup, and Chicano Son.
To learn more about Professor Rubén Martínez's work and achievements, please visit his faculty page website.
About the Luis Leal Award for Distinction in Chicano/Latino Literature
The Leal Award is named in honor of Luis Leal, a professor emeritus of Chicana and Chicano Studies at UCSB, who was internationally recognized as a leading scholar of Chicano and Latino literature. Previous award recipients of the award include Demetria Martínez, Jimmy Santiago Baca, Graciela Limón, Pat Mora, Alejandro Morales, Helena Maria Viramontes, Oscar Hijuelos, Rudolfo Anaya, Denise Chávez, Hector Tobar, John Rechy, and Stella Pope Duarte.
Modified on February 08, 2022